National Night Out is an annual community-building campaign that promotes police-community partnerships and community camaraderie to make our neighborhoods safer, better places to live.
National Night Out events will take places Tues, Aug. at these times and places:
Beat 2411 (West of Ridge, Howard to Pratt): 6 - 8 pm at Indian Boundary Park, 2500 W. Lunt
Beat 2412 (West of Ridge, Pratt to Devon): 6 - 7:30 pm at Warren Park, 6601 N. Western Beat 2413 (West of Ridge, Devon to Peterson): 6 - 8pm at Green Briar Park, 2650 W. Peterson
17th district (Peterson Park; Hollywood Park; Albany Park): 5 - 8 pm at 17th District Station East Parking Lot, 4651 N. Pulaski
And while you're enjoying a summer evening out with family and friends, help to educate neighbors about the LEARN campaign to build a new Northtown branch library in West Rogers Park.
To get a petition to bring to local National Night Out events, contact Shalom Klein atsklein@gowrp.org
On the subject of community-police relations, Jewish Community Council of West Rogers Park sponsored and delivered donuts for the police officers that serve the 24th district. Many thanks to Azi Lifsics for taking the lead on this initiative. It is important to show appreciation to the police who work so hard to protect our neighborhood.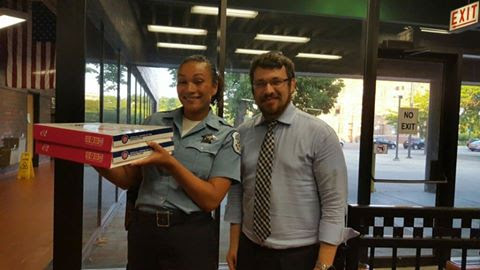 The next time you see an officer, wave and say thank you! These small gestures mean a great deal.